Literally growing up within prison walls, Lakisha Short has discovered her purpose through her struggles. Serving a 55 year sentence, she maintains by sharing her story. Utilizing her talents, she has developed a creative way of change – encouraging, inspiring, and empowering others. During the TEDx Wilmington Salon event, Ms. Short takes responsibility, makes sacrifices and is willing to surrender to what she is for who she can become.
| | | |
| --- | --- | --- |
| " | we question: Is it possible? Possible to overcome the hurt? The pain? The past? In our minds we have this conversation. Seeking inside ourselves we find a door. A door that many have tried to open with manipulating, lies and deceitfulness...A new day comes, but old things remain. A constant reminder that we are not perfect. | " |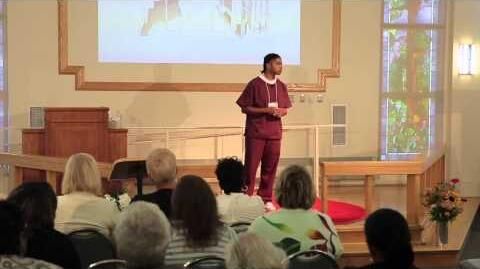 Ad blocker interference detected!
Wikia is a free-to-use site that makes money from advertising. We have a modified experience for viewers using ad blockers

Wikia is not accessible if you've made further modifications. Remove the custom ad blocker rule(s) and the page will load as expected.